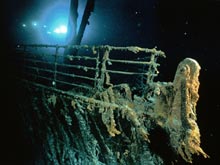 © Institute for Exploration/University of
Rhode Island, National Geographic
2004 - Robert Ballard återvänder till Titanic
---
RMS Titanic 2004 Expedition

Maj 27 – Juni 12, 2004


Tre år efter James Camerons lyckade expedition Ghosts of the Abyss var det dags för mannen som hittade vraket att återvända dit. Robert Ballard hittade Titanic 1985 och nu 19 år senare ville han återvända med ny avancerad utrustning för att se hur vraket har förändrats genom åren.

Förutom att undersöka Titanic så var meningen med denna expedition att släppa en DVD och en uppföljare till miljonsäljarboken Discovery Of The "Titanic". Den 4 Juni 2004 berättade Robert Ballard direkt över telefon att han har sett stora förändringar på vraket. Masten ska vara borta och Ballard menar att det uppstått mängder av hål i vraket. Stor del av den snabba nedbrytningen beror enligt Ballard på alla expeditioner till vraket. Han menar att de hänsynslösa skattsökarna landar lite här och var på vraket vilket leder till att det går i sönder snabbare.

Robert Ballard uttrycker det själv så här:

"When submarines bump into things, they can do damage. When they land, they can do damage. You can clearly see, all over the ship, where the common landing sites are knocking the holes in the deck."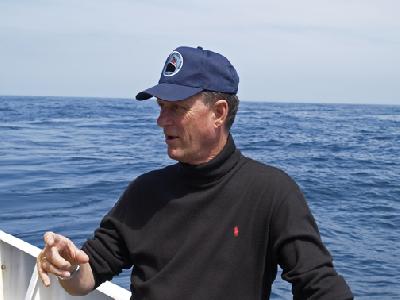 Den 62-årige Robert Ballard, menar att de många dyken förstör Titanic.
© Institute for Exploration/University of Rhode Island, National Geographic.
Andra forskare menar dock att expeditionerna till vraket inte har något med nedbrytningen att göra. Titanic har trots allt legat i vattnet i över 92 år. Metallen äts sakta upp av mikroorganismer som kommer att leda till att vraket en dag kommer falla ihop till en stor hög med rost.

Under expeditionen, som var finansierad av National Geographic Society och The National Oceanic and Atmosperic Administration (NOAA), lät man därför undersöka vraket med fjärrstyrda miniubåtar. Allt för att bara titta, men inte röra som Robert Ballard själv tycker är viktigt.

Med den senaste tekniken var det under denna expeditionen möjligt att ta skarpare och tydligare bilder än förr. Under sommaren 2004 lät man dessutom sända live från vraket. Ballard hoppas att dessa bilder ska inspirera till en sorts virtuell Titanicexpedition. Kanske t.om en permanent videolänk så folk ska kunna se Titanic direkt från sina hem.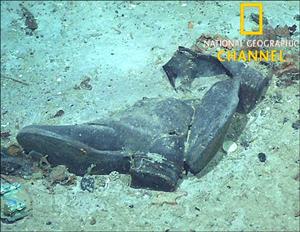 Den 6 Juni 2004 hittades dessa skor i vrakområdet runt Titanic.
Kroppen av den drunknade har lösts upp med tiden och kvar idag är
bara läderskorna som tar längre tid att bryta ner. © Institute for
Exploration/University of Rhode Island, National Geographic. .


I väntan på att National Geographic ska släppa en DVD om expeditionen har det släppts en bok med 152 fantastiska foton.






Return To Titanic av Robert Ballard
I November 2004 släppte National Geographic ut Robert Ballards bok om expeditionen. Den hela hela 192 sidor stora boken innehåller 152 foton. Förutom fakta om expeditionen finns här finns många jämförelsefoton på hur Titanic har förändrats sedan 1985. Här finns också knviskarpa foton som tagits med den allra senaste utrustningen. Många av fotona är från vrakområdet där tusentals föremål trillade ur Titanic då hon bröts i två delar. Detta är en bok som måste finnas i allas samling. I Sverige kan den bara köpas genom att klicka här.


BOKUS - Beställ boken här.




National Geographic har gjort en expeditionssida på Internet som innehåller bilder, fakta och filmklipp om expeditionen. Sidan uppdateras fortfarande i November 2004.



För att komma till den officiella expeditionshemsidan klickar du här